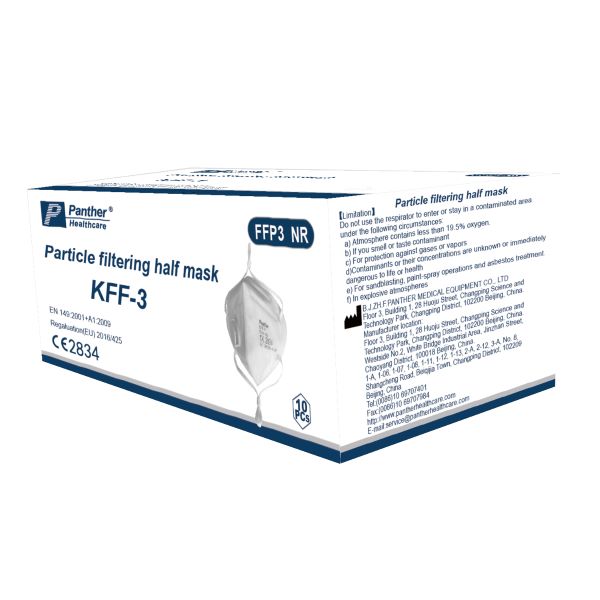 The Panther® series of particulate respirators are specifically designed for a comfort wearing, high efficiency protection, low breathing resistance, are highly practical and cost effective. This Panther® KFF-3 particulate respirator of class FFP3 NR is a folding Shaped 5 layers filtering half mask with valve fitted with adjustable headbands, soft inner nose foam with an internal metal nose clip.
The Panther® KFF-3 soft inner nose foam brings you the following F&B:
• Improved face seal
• Increased wearer comfort
• Better isolation
The Panther® KFF-3 adjustable elastic headband brings you the following F&B:
• More secure fit and increased comfort to face, head and neck.
The Panther® KFF-3 state-of-the art Valve brings you the following F&B:
• Effective removal of the heat build-up provides a cooler and more comfortable wear
• Removes exhaled air and minimizes the risk of misting eyewear
The composition of the Panther® KFF-3:
1st layer: PP Non-woven fabric
2nd layer: Hot air cotton
3rd layer: PP Melt blown fabric
4th layer: PP Melt blown fabric
5th layer: PP Non-woven fabric
Standard: EN149: 2001+A1: 2009